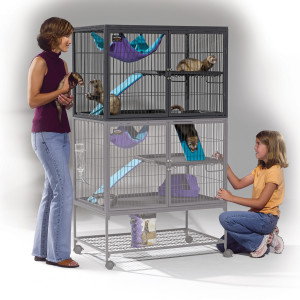 Trying to keep track of all the ferret cages for sale can be hard, with online retailers often changing pricing and shipping options.
What looks like the best deal on paper — the one with the cheapest price — might not be a great deal when you factor in shipping costs.
You'll also need to factor in cage design and durability when weighing ferret cages for sale.
A cage that costs $50 more than a similar model (such as the Ferret Nation versus the Ferret Mansion) might seem like a terrible deal compared to a cheaper model but could be a great deal if it last years longer.
Below you'll find our pricing guide to the most popular ferret cages for sale. Not only are the prices updated automatically, but we also note which include free shipping as well as their average rating.
| Ferret Cage | Manufacturer | Best Price | Free Shipping | Avg. Rating | In Stock |
| --- | --- | --- | --- | --- | --- |
| Ferret Nation 182 Double Unit | Midwest | $213.00 | Yes | | Click to buy |
| Ferret Nation 181 Single Unit | Midwest | $110.53 | No | | Click to buy |
| Prevue Hendryx Feisty Ferret | Prevue Hendryx | $129.00 | Yes | | Click to buy |
| Marshall Folding Ferret Mansion | Marshall | $156.65 | Yes | | Click to buy |
Ferret Cages for Sale Comparison Guide
Ferret Nation cages from Midwest are more expensive than other ferret cages but they're considered by many to be the Cadillac of cages.
Years of design went into making the Ferret Nation line of cages, with Midwest soliciting feedback and advice from ferret owners during each step of design and manufacture.
No expense is spared and no corner cut with the FN line, with the unique needs of ferrets and their owners taking into account.
Prevue Hendryx ferret cages are gaining in popularity, with many owners fond of the Feisty Ferret 485 model.
It borrows many design elements from the Ferret Nation cages, most notably the double cabinet doors, pans and trays, and casters on the bottom of the cage.
The only real knocks on Prevue Hendryx ferret cage — and the reason for a lower rating — are due to complaints about poor packaging and difficult assembly/poor instructions.
The Marshall Folding Ferret Mansion rounds out the three most popular ferret cages, with the Folding Mansion offer plenty of room and levels for ferrets to frolic on.
Reviews are generally positive but some owners were concerned with the quality of parts and construction and displeased with the amount of modification necessary to turn it into a safe, comfortable cage for ferrets.