(Note: Below is our original review for the Ferret Nation 141 model. The new Ferret Nation single level model sold at retailers is the Ferret Nation 181, which replaces older models such as the FN 141.)
The Ferret Nation Single Level 141 cage is a great first cage for new owners or for owners with just one or two ferrets who don't quite need the extra space in the Ferret Nation Double.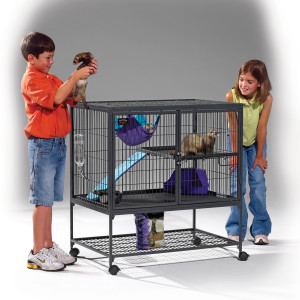 Ferret Nation 181
Competitor's price: $210
BEST PRICE: $149.99
FREE shipping – Click now!
Like all Ferret Nation cages, the Single Level is sturdy, durable, and offers an amazing amount of space for your ferrets to live and play in.
The shelf and ramp height is adjustable and water bottles and hammocks can easily be hung wherever you'd like, so it's a snap to customize your cage exactly the way you'd like it.
It's designed to accommodate taller items such as exercise wheels, too, providing the perfect healthy home for your ferrets.
Ferret Nation 141 Versus Other Cages
The cabinet-style design with double doors not only provides as much space as possible, but makes cleaning a breeze.
Simply open the doors, slide out the trays, and the entire Ferret Nation Single cage can be thoroughly cleaned in just a few minutes, with no heavy lifting or bending over required.
Less time cleaning cages means more time you can spend with your ferrets, so a Ferret Nation cage quickly pays for itself in just a matter of a few months with the time you'll save.
Best Place to Buy Ferret Nation Cages
It can be hard to find Ferret Nations at local stores and online retailers almost always have the best deals.
Best price at Amazon for the Ferret Nation 181 single level cage: $149.99 + free shipping 
Several different merchants (including MidWest) sell through Amazon so prices (and shipping charges) change constantly, so always check current prices on both sites when shopping for your next ferret cage.